Welcome to our SEO basics guide, this page will help you understand SEO on a beginner level.
What is SEO?
SEO, Search engine optimization is the process of improving your website to rank better in organic search engine results.
Organic search results are the web pages that most closely match what is searched for.
It's obvious that a first-page result will have a lot more visitors compared to a second or third-page result.
To understand how to be in the top results you need to understand the basic SEO factors that determine the search algorithm.
Google isn't openly talking about all factors but this list can help a lot.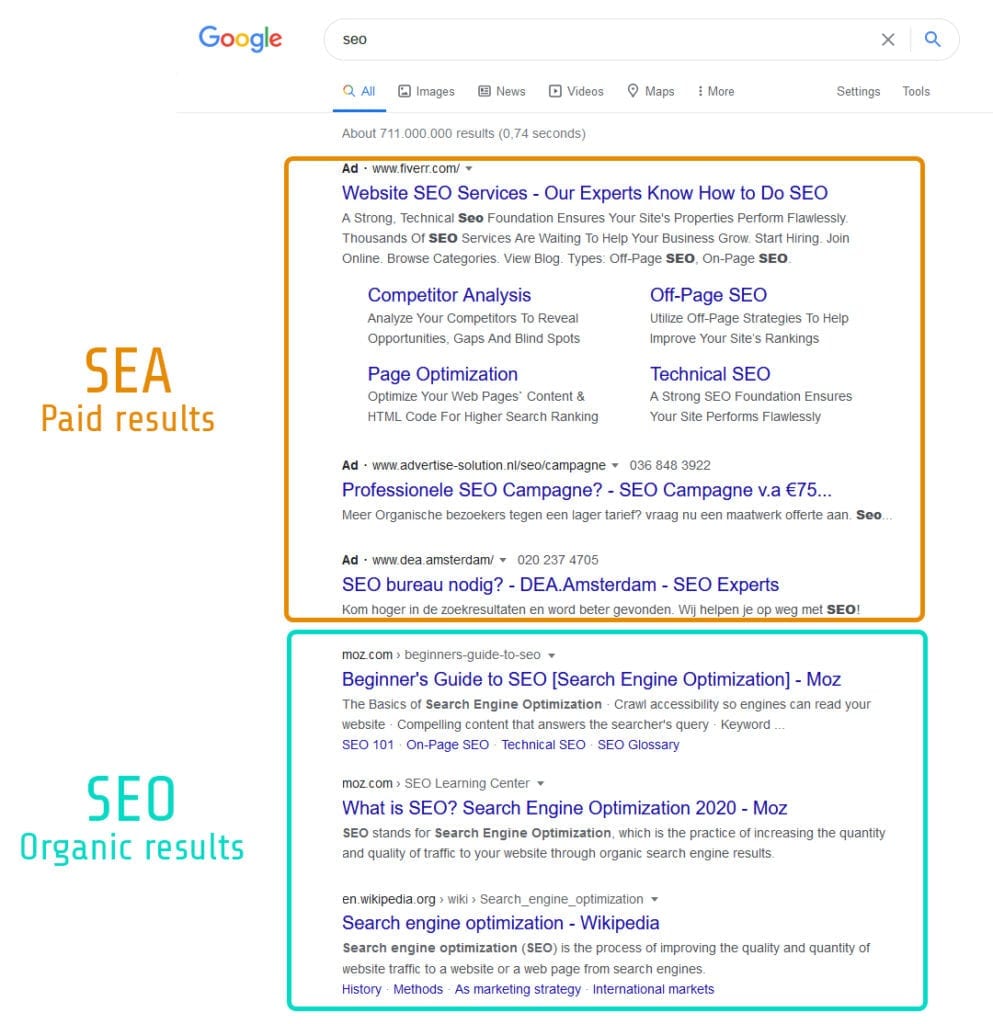 Overview of what you'll learn:
SEO can be separated into 2 big categories: on-page SEO and off-page SEO.
Like the name, on-page SEO includes everything that can determine by directly looking at your page. Some examples: page structure, headings, content.
Off-page SEO refers to all variables outside your page that Google is looking at. They depend on other sources like social networks, other blogs, and the personal history of the searcher.
To perform well with SEO you need to have both right. Before going deeper into this I want to explain another way to categorize SEO
WHITE HAT AND BLACK HAT SEO
If you want to work with SEO for a get-rich-quick plan you probably end up doing black hat SEO.
This is focusing on optimizing your content for the search engine but not considering the human visitors.
There are a lot of ways to get your sites to rank high, black hat SEOs use this for some quick cash.
This is a spammy approach and you can get punished for that by receiving bans from search engines.
If you want to rank in search engines on the long-term white-hat is the way to go.
If you do white-hat SEO you focus on the human audience.
You try to provide the best content possible and try to rank higher by applying the search engine rules.
There's also a middle road between white and black so it's called grey-hat SEO.
Most link building tactics are considered grey and black.
In the end, everyone wants to rank first, it's on you to decide following white, grey, or black SEO tactics and rules.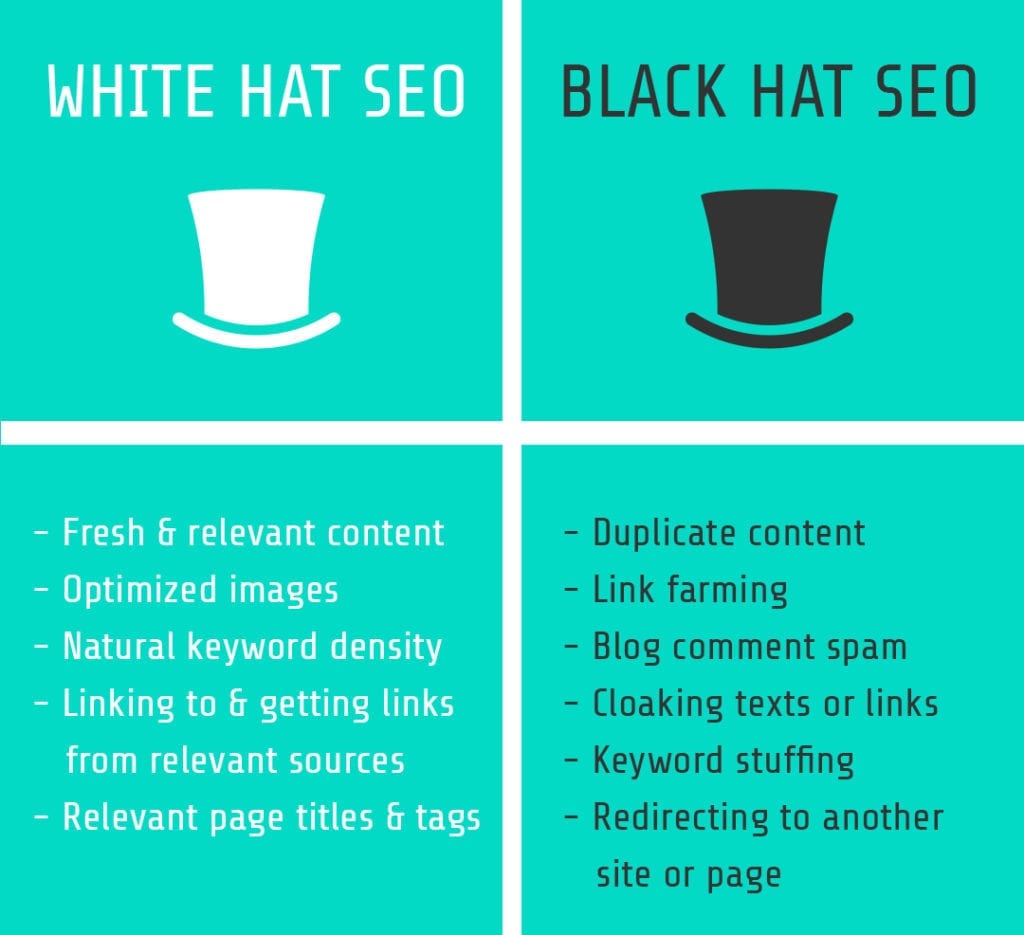 ON-PAGE SEO
Now that you know the basics of white and black hat SEO and their differences we can move on to on-page SEO.
There are 3 main categories to focus on while improving on-page SEO:
Content is king, when someone searches and gets the result that fits his needs the best the person is happy.
Google is always trying to provide you the best experience possible by presenting the best content it can find.
The number one job in SEO is to produce great content. And yes, you need to put in a lot of work.
SEO isn't different from any other skill: hard work and big effort to pay off great results.
On the other hand, your SEO has no effect if you have weak content. This is the factors that make good content according to google.
Quality: coming up with good content isn't easy, it means that you have to become a teacher and add value.
You don't always have to start from scratch, often you can start by looking at your competitors' content and make it better, longer, and more in-depth.
Keyword research: doing keyword research upfront is a crucial part of great content.
You already want to include your targeted keyword in your post's headline and through the post, you need to choose your keyword before you start writing.
This is one of the hardest on-page SEO factors which you really should take seriously.
If you have zero experience I recommend following an online course for keyword research.
Keyword usage: Using your keyword a lot in the content is important, but Google is smart and knows when you're spamming your keyword.
This only decreases your own ranking so I won't recommend it.
The freshness of content: it's proven that posting more frequently improves your rankings.
Besides that, you can also update the content you've already published.
Keeping your posts up to date and rewriting it can really work with the right content.
Direct answers: sometimes when you search for a question google will give you a direct answer if you write your content clearly enough google might recognize it to answer a question.
With the expanding usage of voice search, you might want to exclude the jargon and replace it with normal words.
Keyword selection: is everything in SEO, here are some mistakes to avoid:
Picking the wrong keyword
Ignoring the competition
Aiming at unrealistic keywords
So what are good keywords for you?
Relevant to your business
Not too competitive
Provide enough traffic to be worth the effort
2. HTML
If you're sure your content is good you can go on and handle HTML.
You don't have to be a professional coder but I recommend learning the basics if you want to run an online business.
There are 4 parts of HTML that should be optimized:
Title tags: The HTML tag's name is called title but an H1 is also used a lot in blogs.
H1 means the heading of the first order. There's only supposed to be one H1 per page to make the title clear to Google.
Meta description: The meta descriptions are what show up in google below the title in search results.
Keep the searchers in mind while writing this max 160 character snippet. Most optimized meta descriptions mention the contents keyword in the beginning.
Schema: Schema is the result of several search engines collaborating, it's just a subset of HTML tags that can improve the way your content is displayed in the search result.
Subheads: Subheads are always an underestimated part of SEO, subheads help structure your content, give readers a reference, and affect SEO.
Compared to H1 the other headings have less influence but this doesn't mean you shouldn't use it.
3. Architecture
The third part of on-page SEO is architecture.
This part can get super techy very fast but there are a few simple things everyone can do to improve their SEO.
A good website architecture means a great user experience for the user visiting your site.
It focuses on safety, mobile-friendliness, and fast loading times.
You can optimize a few things to improve the search engine experience to make your website more accessible to google.
Easy to crawl: there are programs that crawl from one page on your site to the next by following links.
They index all pages on your site, the better they do this the better results you'll get.
To help google you can create a sitemap.
Mobile-friendliness: it's 2020 already, if your pages aren't mobile-friendly you lost.
Google is even using a mobile-first indexing algorithm because there are more mobile searches than pc searches.
Page speed: Time is very important now, if your website is not fast enough people will leave the site and google will rank you lower in the search results.
There are a lot of free tools to check your page speed and give advice on how to optimize.
Keywords in URLs: including the keyword in the URL is a quick extra to help you rank on a keyword.
A good structure of permalinks can help google understand your website better.
While changing your permalinks keep the human user in mind as well.
https and SSL: Security is also part of SEO and that's not all.
They also warn people when websites aren't secure.
Make sure your website is secure and your SSL is configured right.
OFF-PAGE SEO
Trust: google is removing all spammy and useless websites from their search results.
Trust is getting more and more important for your website.
Google wants to see if your site is legit, quality backlinks from authoritative sites help to build this trust.
Authority: there are 2 kinds of authority that you can build: domain authority, this is about how widespread your domain name is and how many people are aware of your domain.
Page authority is about the authority of the content on a single page or post.
There are some tools to check your authority, this is measured between 0 and 100 but 100 isn't really possible.
Bounce rate: this is the number of people that view only one page on your site before they leave.
Good content, page speed, and usability help you decrease your bounce rate.
Domain age: the age of your domain helps a little bit too, trust authority and age have one thing in common: your brand.
Identity: having a brand or personal identity online will increase your trust in search engines.
This can't be built quickly, it takes time to build this trust.
People still prefer companies they recognize, building a recognizable branding could be considered more important than the quality or price.
Links: Backlinks are still important, but they're not everything.
Take initiative and ask people for backlinks while thinking about these 3 factors:
Backlinks are not everything but the quality of the link is.
The quality is way more important than the number of backlinks you have.
If you still look at the number of backlinks think about these reasons why you shouldn't:
Search engines ignore the low quality or spammy links
Links from other websites are more valuable than links from your own site.
Links from new sites are worth more than repeat links from older sites.
The anchor text, the text other sites use for your link. A well-described link is better than a "click here"
The number of links: it still matters as well, you just need to focus on building high-quality backlinks over time this amount will add up.
Personal: there are some personal factors that influence off-page SEO.
There are some small things you can do to improve this:
If you want to focus on a certain country you could include them as keywords.
You could also make your site multilingual, more people can reach your information in their native language.
This improves your ranking in some places.
It's also possible to target a certain city, this is called local SEO.
By using keywords you can improve on the local SEO of a specific city or area.
If the searches visited your site before you become more relevant and google shows you higher in the rankings.
Social: Social factors are also part of off-page SEO.
Good results on social media will improve your ranking. There are 2 main factors influencing this:
Similar to the backlinks, who share is more important than the number of shares.
Google already recognizes authoritative people and influencers. These people have more SEO value than the average Joe.
Every marketer hopes that one of their posts goes viral with countless shares, the only advice to improve the number of shares is: create original and awesome content.